DRIVING TIPS
During the test – 4
Driving Distance
When Driving
You must adjust your speed to maintain crash avoidance space to the front of your car. The minimum safe distance needed in front is three seconds but more is needed in wet conditions.
When Stationary
When you are stopped in traffic you must keep some distance from the vehicle in front to reduce the risk of colliding with it, if you are hit from the rear.
As minimum, you must be able to clearly see where the rear tyres of the car in front are touching the road. You will fail if you repeatedly do the same mistake.
Lane changes
The testing officer will ask you to complete a lane change. You must indicate and check your rear vision mirror and over your shoulder for your blind spots when you are changing lanes or you will fail if you repeatedly do not check over your shoulder, you must check in the same direction that you are indicating. You will fail if you select an unsafe gap or the testing officer has to intervene.
You will fail if you repeatedly do not indicate when legally required.
Safe Stopping
The testing office will be checking several requirements when assessing your breaking technique, such as whether you are able to break smoothly.
When stopping at a stop line you must stop for three seconds. Your final stop position must be within one metre of the line, and not over the line. If you stop over the line or stop more then one metre from the line you will fail.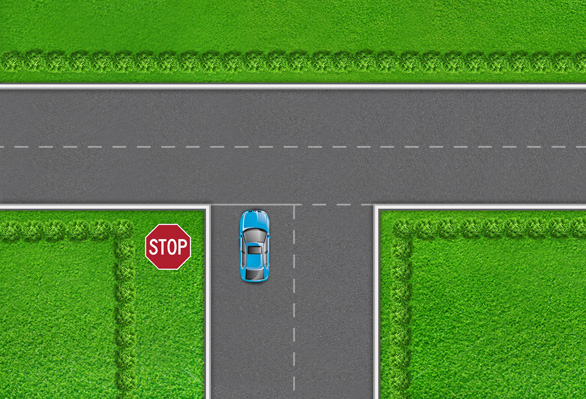 Vehicle control
You must drive at a safe and legal speed. You will be expected to drive close to the speed limit on clear open roads if it is safe to do so.
If the traffic is going slower than the speed limit, then you should drive at a speed that does not unnecessarily hold up other traffic. If you go over the speed limit you will fail.
When you are driving you should steer with your hands on the outside of the steering wheel and keep both hands on the steering wheel except when you need to use a control.
You will fail if you repeatedly do not indicate when legally required.
Roundabouts
The roundabout sign means slow down, and prepare to give way and if necessary stop to avoid a collision. As you approach a roundabout, you must get into the correct lane, indicate if turning, and give way to the traffic already on the roundabout and on your right if there is any risk of a collision.
You will fail if you repeatedly do not indicate when legally required.
Enter the roundabout when there is a safe gap in the traffic and keep one metre from the kerb and from the edge of the roundabout so you do not touch it.
If you touch the edge of the kerb or the roundabout you will fail.