DRIVING TIPS
Unexpected events
Responding to hazards
Predicting what will happen during your driving test is near impossible. If something unexpected happens, you are expected to have enough experience in order to make a safe decision given the circumstances. For example, if children are standing in between two parked cars, you should cover the brake and slow down and/or change lanes.

Your actions in these unexpected events results in a bonus point in your test score, if you miss seeing the event or you do not handle the unexpected event with enough caution, you will get a minor penalty in your score. If however, the testing officer has to intervene you will fail.
You must prove to the testing officer that you are a safe and defensive driver, so the testing officer will be looking to see if you are able to recognise hazards and choose an appropriate course of action.
Responding to hazards – Example 1

Responding to hazards – Example 2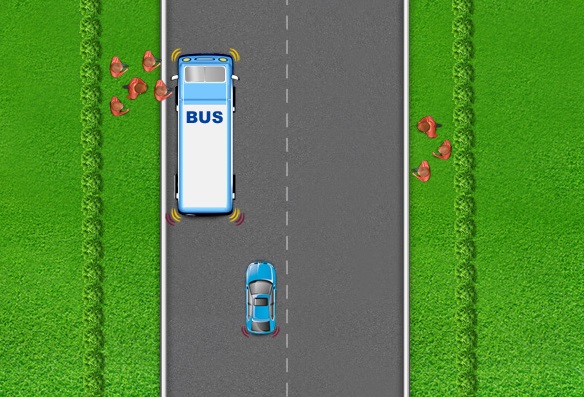 Where people are exiting buses or people are trying to cross the road to catch a bus, you must slow down and prepare to stop.
Responding to hazards – Example 3

Where there is stopped traffic that may be obscuring vision at an intersection you should slow down to see if cars are turning and be prepared to stop.